Posted March 4, 2013 by Jessa Marie Dano
A new, yet tremendously successful social platform called Pinterest definitely has the YES vote for social media sites when it comes to image and video sharing. Pinterest started "pinning" on the web just 2 years ago, but as young and unique as it is, it has grown into one of the most sought after social media site.
In a recent study done by comScore.com, a whopping 70% social media users browse Pinterest to get inspiration on what to buy. This shouldn't come as a surprise if its the Internet's fastest growing social media in terms of unique visitors and click stats on search engines.
Pinterest is worth considering as a marketing channel, if you are a…
blogger
startup entrepreneur
small business owner
online marketer
In this post, you'll learn how to get started with a Pinterest Business page.
The Basics
So how does Pinterest really work?
The Pins
A "Pin" (as how the entries are called) starts with video or an image uploaded in the site. You can add a pin in 2 ways ways:
through adding URLs
uploading a file from your PC
Remember that the URLs must contain an image and your the files from your PC are in JPEG format. Uploading images in .PNG or other image formats may ruin the quality of your photo as it appears live on the site.
The Board
Pinterest "Boards" are your way of organizing your pins. Whether its for business, leisure, or food, you can sort out your uploads according to category. In terms of privacy control, you can either make your boards secret or public. Note that the boards can be kept as private if you want to hide from your audience while the other boards and your profile remain public.
The Follower and the Followed
If you have friends on Facebook, you have followers on Pinterest. Yep! Pretty much the same as Twitter. Once you click on the "Follow" button at the upper center part of the a user's board page, you will receive updates from that user every now and then. If you don't want to follow a user's entire Pinterest account, you can follow per board. The images below show what's meant in following the user and following a specific board.
"Follow All" Button

"Follow" per Board

At the same time, if others will follow your boards, they will likewise see your updates in their home page.
How to Set-up a Pinterest Business Account
In 2012, Pinterest launched their newest business account feature. A business account can be a newly created account or your personal account converted into a more business-friendly profile.
As described in Pinterest Help Center, a business account helps entrepreneurs build their brand, promote small businesses, and strengthen organizations. With a business account, you can create or log in to Pinterest using your business name, and not your personal details.
To convert your personal profile to business, check out these simple steps.
1. Go to "Join as Business" page. To locate the "Join as Business" page, go to your boards page, click on "About" and the sub-label, "For businesses" and you will be redirected to this page.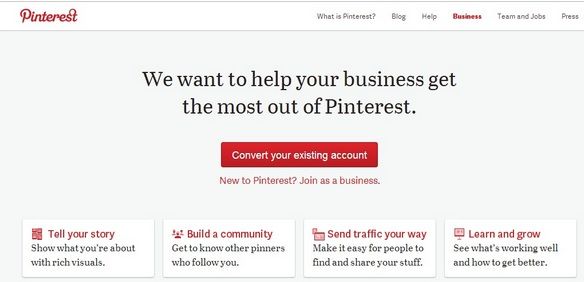 2. Clicking on the "Convert Your Existing Account" will make you change a few details about your account that might affect the response of your audience on your business website. Information like username, "About me," business type, and contact details are all essential in establishing your business page.
3. In the conversion process, you will have to verify your business website first so that your account will be officially enlisted as a Pinterest business page. Once verified, you can add widgets on your website so that your visitors can follow your Pinterest page without a hassle!

In just three simple steps, you'll have the chance to introduce your business to a massive 26.7 million unique visitors every month.
Browsing pins have a very strong connection with the actual purchasing itself. Online consumers appreciate visual creativity more than text contents, which makes Pinterest an ideal social website for retailers and other entrepreneurs.
About Jessa Marie Dano
Jessa Marie Dano is a freelance writer and blogger. She writes about marketing and online entrepreneurship. One day she hopes to go skydiving, kayaking, and zip lining.
More Articles About: Blog, business account, pinterest, social